CAPS, a medical clinic licensed in the state of California since 2004, has locations in the SDSU College Area, Pacific Beach, and Downtown San Diego communities. We provide early medical help and peer counseling to those facing unexpected pregnancies.
AAll pregnancy services are free and we provide low to no cost STI/STD testing. All of our services are fully confidential. Making an appointment helps us insure there will be someone available to serve you and that you will not have to wait for care.
ACCREDITATION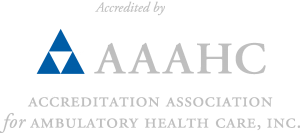 Status as an accredited organization means CAPS has met nationally recognized standards for the provision of quality health care set by AAAHC (Accreditation Association for Ambulatory Health Care). More than 5,000 ambulatory health care organizations across the United States are accredited by AAAHC. Not all ambulatory health care organizations seek accreditation; not all that undergo the rigorous on-site survey process are granted accreditation.
CAPS believes our patients deserve the best. When you see our certificate of accreditation, you will know that AAAHC, an independent, not-for-profit organization, has closely examined our facility and procedures. It means we as an organization care enough about our patients to strive for the highest level of care possible.
Ambulatory health care organizations seeking accreditation by AAAHC undergo an extensive self-assessment and on-site survey by AAAHC expert surveyors – physicians, nurses, and administrators who are actively involved in ambulatory health care. The survey is consultative and educational, presenting best practices to help an organization improve its care and services.
OUR COMMITMENT TO YOU
Clients are served without regard to age, race, income, nationality, religious affiliation, disability or other arbitrary circumstances.
Clients are treated with kindness, compassion and in a caring manner.
Clients always receive honest and open answers.
Client information is held in strict and absolute confidence according to HIPAA guidelines.
Clients receive accurate information about pregnancy, fetal development, lifestyle issues, and related concerns.
We do not offer, recommend or refer for abortions or abortifacients, but we are committed to offering accurate information about abortion procedures and risks, pros and cons of abortions, abortion options, abortion alternatives, and post abortion support.
All of our advertising and communications are truthful and honest and accurately describe the services we offer.
All of our professional staff and peer counselors receive proper training to uphold these standards.
CAPS Pregnancy Clinics' Privacy Policies
Contact us for more information or to make an appointment. All pregnancy services are free and we provide low to no cost STI/STD testing. All of our services are confidential. Your privacy matters.